Introducing the Aqua-L Series, where innovation meets precision. Join us on a journey to explore the advanced features, cutting-edge technology, and unmatched performance that make the Aqua-L Series a game-changer in the world of leak detection. Explore, detect, and conquer pipe leaks like never before.
Our promise
Australian owned & operated.

At Aqua Leak Detection, we take immense pride in being an Australian-owned and operated company.

Eight fully integrated languages.

English, Polish, German, Italian, Spanish, French, Arabic and Turkish and more!

Quality assurance guaranteed!

All of our equipment include a 5-year warranty and lifetime support.
Explore the AQUA-L Series
Display screen

Here you will be able to visually read leak sounds whilst simultaneously emitting sound to the headphones. The display screen is compatible with four sensors, each unique in its ability to find a leak (see compatible sensors below). The display screen is powered by a powerful rechargeable lithium-ion battery that can last up to 15 hours on one full charge.

Which product is suitable for me?

Our leak detectors come with a variety of sensors. Each sensor is unique in its ability to detect a leak in various environments, whether it be a leak in a wall, around a toilet or shower, beneath the ground within a bathroom, living room, office or underneath a driveway, concrete slab and foundations, below grass and backyards and much more!


Whether you are a plumber, a leak detector, a risk manager, a builder or someone who wants to be genuinely prepared, you have come to the right place.

Please do not hesitate to contact us if you need advice on which product may best suit you and your needs. You may chat with us via the instant messenger on the side of the screen, email us here or complete the contact form below.

What makes our equipment unique?

Designed and developed by geotechnical engineers and hands-on technical experts, our impressive leak detectors allow the user to listen up to 8 meters below surface areas to reveal the state of the pipeline. The intelligent screen simultaneously displays data in real-time. Sound received through our four unique sensors is simultaneously transmitted through the noise-cancelling headphones. Allowing you to track and trace the leak while the microphone is doing all of the work for you.


The result is insightful data that empowers decision-makers to take the best course of action, giving you the advantage on the job, thus allowing you to dominate the industry.

Just plug, play, and diagnose away.
Sneak peek of our interface.
Our intuitive user-interface provides a glimpse into a world of precision, catering to both indoor and outdoor leak detection.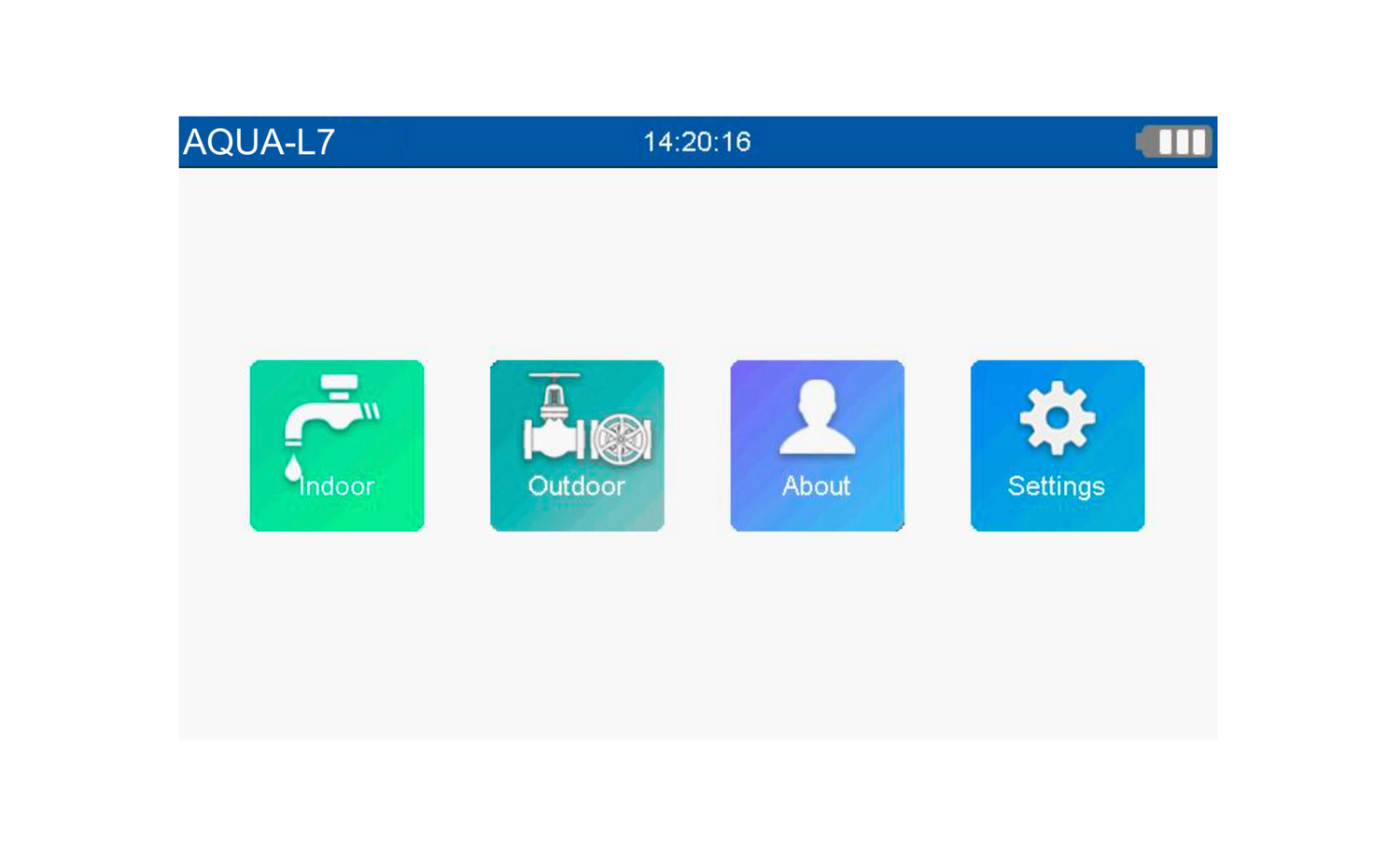 Streamlined.
Streamline your experience with four simple options that make navigation a breeze. Embrace simplicity, embark on your leak detection journy effortlessly!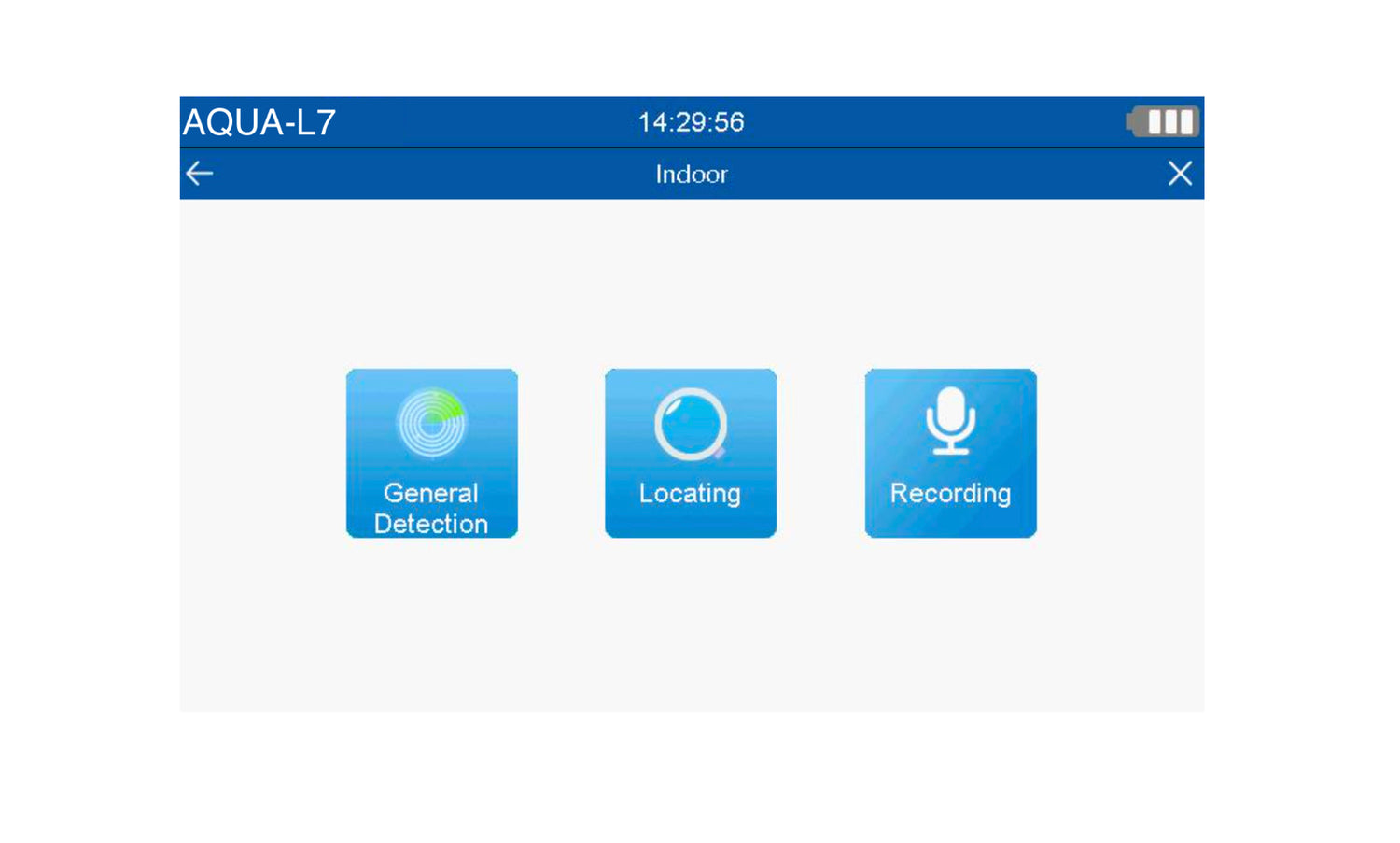 Detect, pinpoint and record.
Experience unparalleled efficiency with our cutting-edge solutions encompassing general detection, precise locating capabilities, and seamless recording functionalities.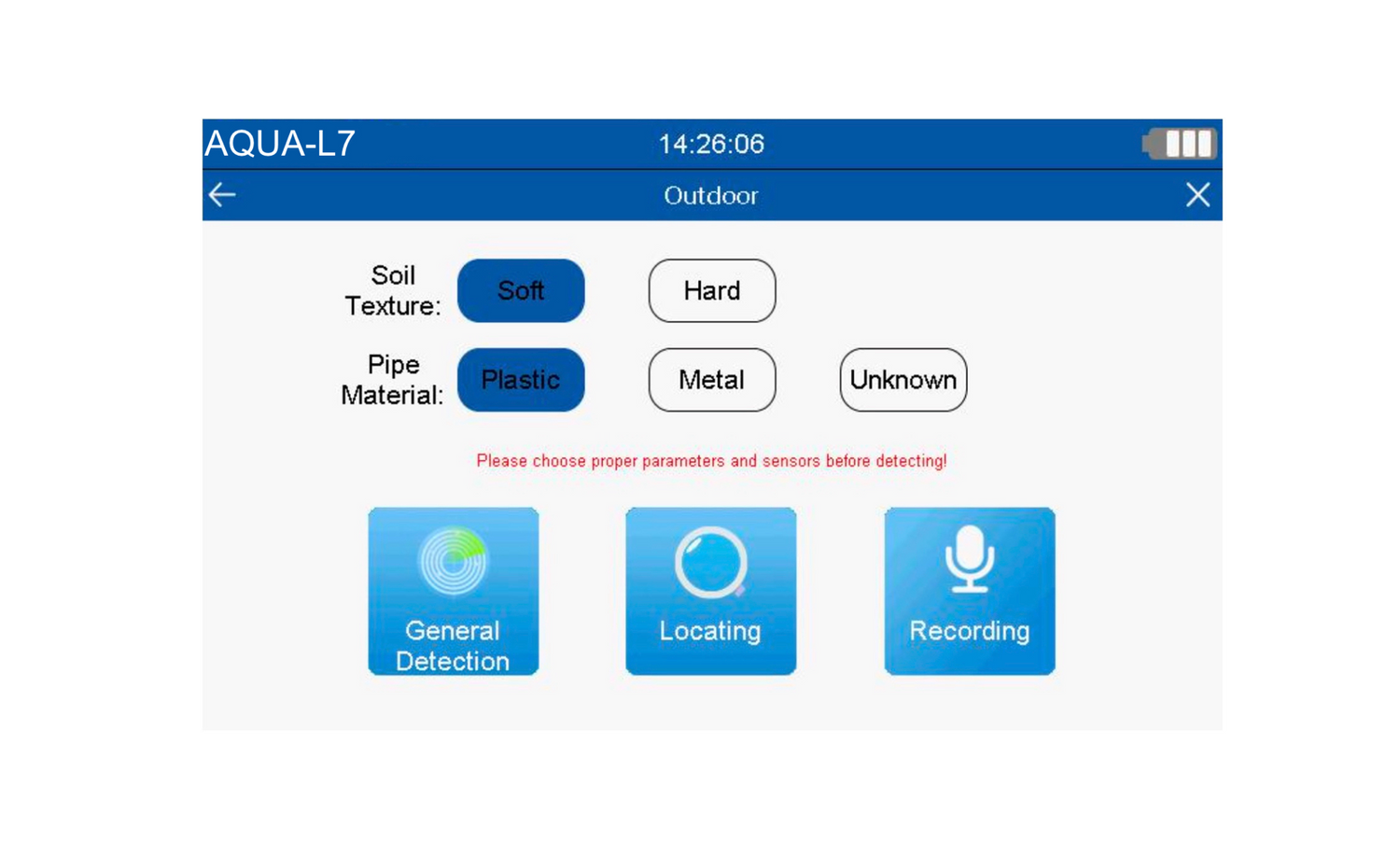 Optimisation.
Enhance your leak detection experience with unparalleled efficiency. Our platform empowers you to optimise results by selecting specific soil textures and pipe materials, ensuring precision in your exploration.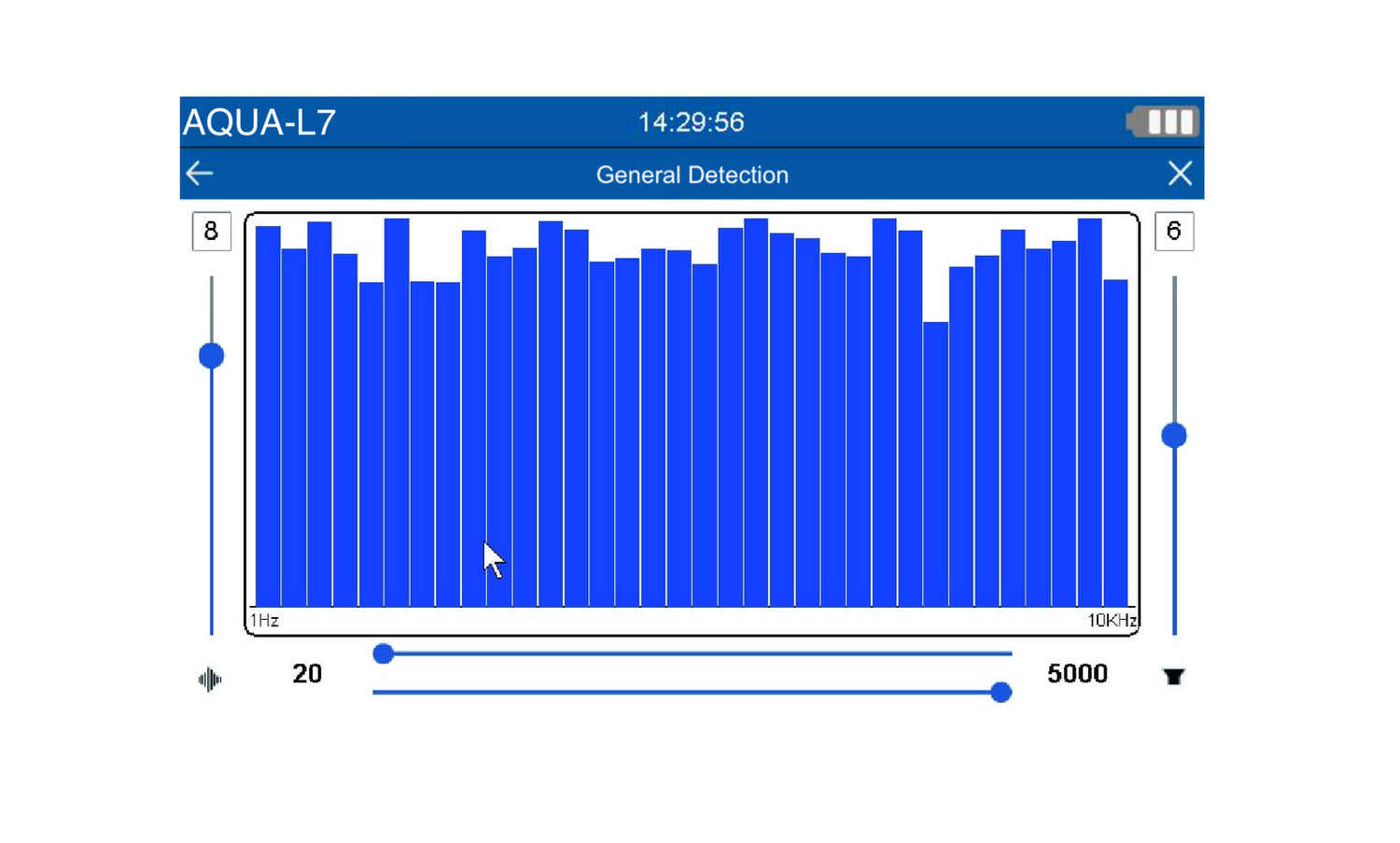 Visualisation.
Experience the Aqua-L Series like never before with our simple and intuitive visualisation. Witness the power of advanced leak detection technology translated into clear and precise data bars.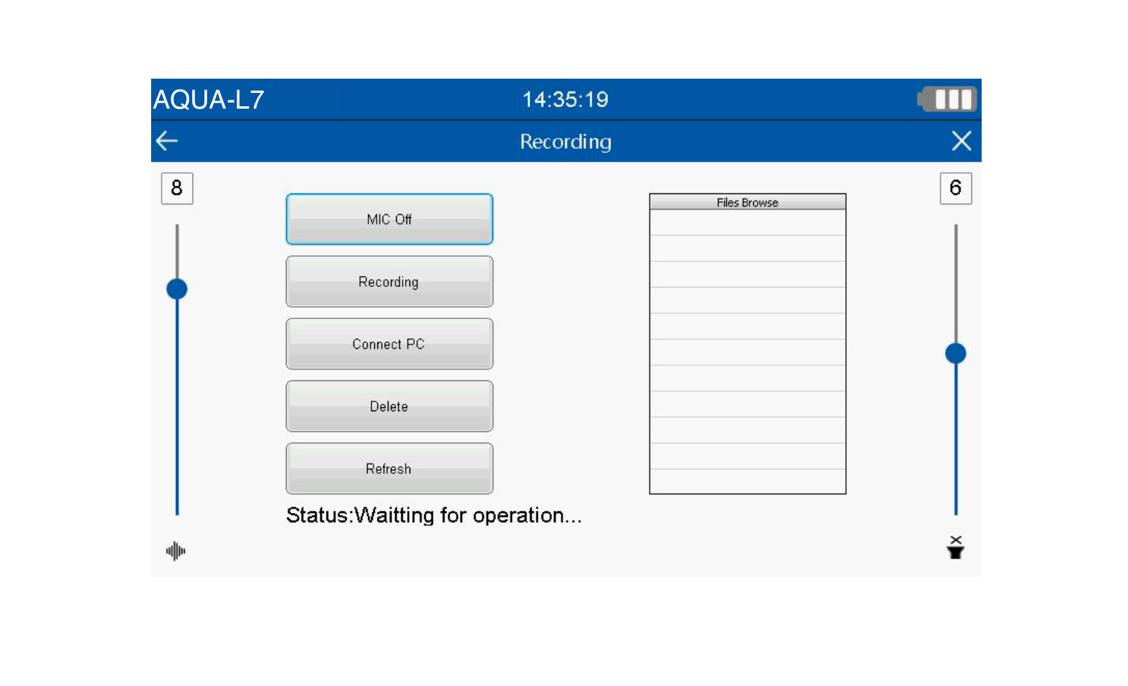 Record, store and export.
Our user-friendly platform offers a robust solution for efficient data handling. Capture important information effortlessly, securely store it for easy retrieval, and export with simplicity.
Our Affiliations.